A crewed yacht charter holiday gives you the opportunity to discover the best of the Turkish coast and at the same time enjoy the rich lifestyle.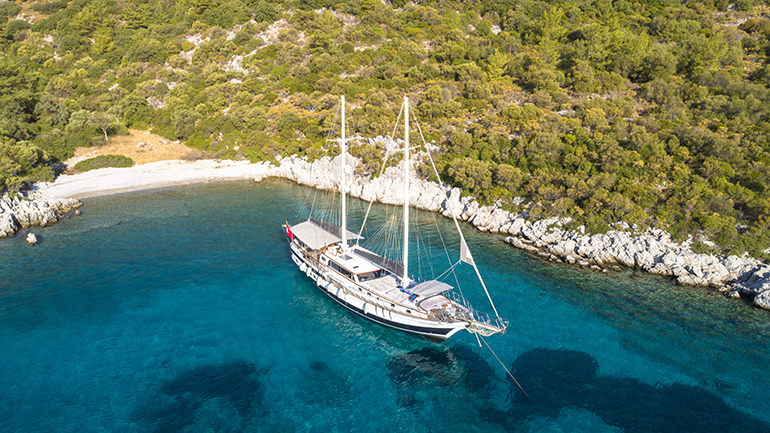 Introduction
As traditionally, the Gulet is handcrafted by master boat builders in Bodrum and Marmaris since the time of King Mausolos, Turkey has been an important center for wooden boat building. Ptolemäus from Egypt had his warships made in Bodrum in 300 BC. The gulet is a miraculously survived relic from the days of Christopher Colombus. It is a compromise between tradition and twentieth century hedonism.
The modern version of a traditional craft built in southwest Turkey for centuries, and used originally for plying their trade around the Mediterranean. The classic Gulet, best known for its rounded stern, low profile in the water, and roomy hull was once used by fishermen and sponge divers to transport their catch. Today's version comes complete with 21st century comforts and technology, but still all hand built as they have been for hundreds of years.
Gulet is a traditional style wooden yacht, also called "caique", with one or two masts, having strong engine for motoring long hours a day. In general, gulets vary in length between 14 and 50 meters hence varying passenger capacity and luxurious comfort. Large sundeck, in/outdoor space, lounge for meals, cabins with toilet and showers provide comfort while on the sea.
Blue Cruise
The Blue Cruise, this most popular "Mavi Yolculuk" (as it is called in Turkish) began when a few years after the foundation of the Turkish Republic, a political writer, Cevat Sakir Kabaagaclı, was exiled to Bodrum for publishing a story about army fugitives. The judges who sentenced Cevat Sakir to a number of years in the remote port knew nothing of its lifestyle, which as Cevat Sakir found out, was something like paradise.
He settled down and found himself in a haven of natural beauties and archaeological riches; he adopted the name, "Fisherman of Halicarnassus", writing stories about the town and its locals - in particular, the fishermen. On his regular outings with fishermen, he gradually got to know the various coves and bays in the Gulf of Gökova. When visiting intellectuals from Istanbul dropped in, he took the opportunity to introduce them to the fisherman's way of life. Together they constructed a theory of culture which embraced the cultures of all the people who lived in Asia Minor.
Cevat Sakir's trips were based on simple life with a load of watermelons, some blocks of ice and a bait to catch fish. So the Gulf of Gökova became famous and these journeys were given the name, "Mavi Yolculuk" means "Blue Cruise". Bodrum paid his honors by a monument to the man who inspired this voyage of exploration - the source of enjoyment for many thousands of people for almost 60 years. In fact Cevat Sakir has made Bodrum popular as a tourism center.
Good sailing, good food, beautiful bays and friendly company in a healthy and happy environment – that is what Blue Voyage is all about. Wherever you come from, and how old you may be, after a week or two afloat in this scenic wonderland, you will become one heart with the beauty and serenity of nature. On a crewed yacht, your every need is attended to by a professional crew and your days are filled with panoramas of coast and sea, fascinating ancient ruins and quaint fishing villages.
Turkey is also a dream for the avid shopper with many places. For instance, traditional herbs that help make Turkish cuisine mouth-wateringly delicious. Your friendly, attentive crew will consist of a captain, a cook and either one or two seaman. Their job is to ensure that you are comfortable, well fed and entertained.
Life on Board
It is hard to imagine a more totally relaxing holiday than one aboard o traditional Turkish gulet as it sails or motors along the heart-stopping beautiful Turquoise coast. Days are spent in unashamed indolence and indulgence as the crew take care of the sailing and navigation and present you with three delicious meals and as many drink as you care to order each day from bar. The major daily decisions are whether to swim, snorkel or enjoy one of the water sports, go ashore and visit an inviting archaeological site or pretty beachside village or just lie and dream on your comfortable deck mattress.
Gulets are accommodated with 3 to 12 ensuite cabins and each gulet has a communal lounge with TV, a dining area and a galley where your crew will prepare your meals, using fresh fish and seafood amongst other local produce. Naturally, most guests choose to spend most of their time on deck, relaxing on comfortable mattresses and watching the beautiful coastline slowly drifting past.
When you are anchored in one of the countless bays, you can use the boat's fishing equipment, enjoy a spot of water sports, whilst those wishing to up the pace a little can choose to incorporate one of the larger ports in their itinerary for some shopping, spot of sightseeing or maybe even to sample the local nightlife. Whatever your interests, a cruise on a traditional gulet allows you to enjoy them at the leisurely and relaxing of paces.
A crewed yacht charter holiday gives you the opportunity to see the best of the Turkish coast and at the same time enjoy the lifestyle once reserved for the very wealthy alone.