Throughout history of Bodrum, known as Halicarnassus in ancient times, has always been fought over and people have been unwilling to share its beauty with others.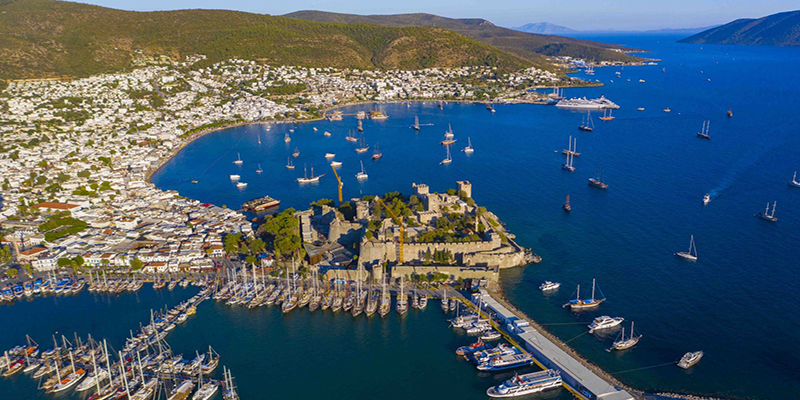 Bodrum is district of Muğla Province in the southwestern Aegean Region of Turkey. It is located on the southern coast of Bodrum Peninsula, at a point that checks the entry into the Gulf of Gökova, and is also the center of the eponymous district. The city was called Halicarnassus of Caria in ancient times and was famous for housing the Mausoleum of Mausolus, one of the Seven Wonders of the Ancient World. Built by the Knights Hospitaller in the 15th century, Bodrum Castle overlooks the harbour and the marina.
Homer describes Bodrum as "The land of eternal blue" and the words of another resident of Bodrum, Cevat Şakir, who said "The heavenly bliss of life in Bodrum is better than any eternal bliss that may await us" were not without foundation in reality.
Built on a peninsula formed by the meeting of the eastern and western harbors, Bodrum, is famous with its narrow streets winding down to the sea, its castle, its world-renowned yachts, its shipyards and the dazzling white houses and tombs lining on the shores of its two harbors.
Bodrum, has the all kind of facilities to meet the expectations of visitors from all economical levels, from the rich tourists to the penny counting tourists, from the rich yacht owners to the reasonable yacht charterers to make their vacation last all summer.
It takes 50 minutes via boat to reach Kos from Bodrum, with services running multiple times a day by at least three operators.
Sample Itinerary:
Bodrum - Gulf of Gökova – Bodrum
or
Bodrum - Gulf of Hisarönü – Bodrum
are ideal itineraries for one week charter, or you can combine both routes for two weeks charter. See other alternatives on
Itineraries
page.
Nearest Airport:
Milas Bodrum Airport (BJV). It is 36 km to center of Bodrum district.