Datça's the most precious jewel is the ancient Greek ruins of Knidos, a city at the confluence of the Mediterranean and the Aegean.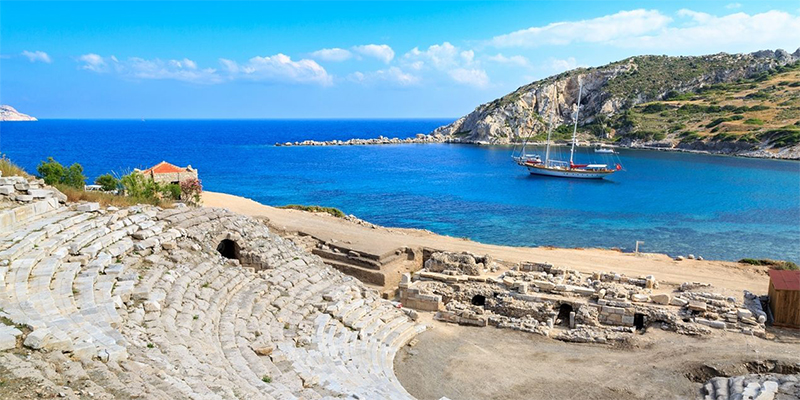 Remnants of the Karians – who settled here in 5400BC – and the cultures of Lydia, Persia, and the Byzantine and Ottoman empires, stud the landscape: there are church ruins, ancient cisterns, tombstones and ruined olive oil facilities.
On the southern shore, workaday, harbour-front Datça is the main settlement. It's not built for tourists but it is where are the most of restaurants. In the hills above town is Old Datça which, by the 1980s, was more or less abandoned, but is now having a mini renaissance.
The 50-mile-long Datça peninsula in Turkey's Muğla province has pure green at the meeting point of the Aegean and the Mediterranean. The ancient Greeks believed Datça to have been created personally by Zeus, so gorgeous are its rocky outcrops and aquamarine waters.
Datça means, pine-crested hills, endless olive groves, empty ravines, cornflower-blue coves, vast sweeping bays and deserted beaches, air scented with thyme, rosemary and sage, and sleepy villages.
This extraordinary peninsula is wedged between Bodrum to the north and overdeveloped Marmaris to the south. There are about 52 bays in Datca to be explored. Kargı bay, Domuzbükü, Palamutbükü, Kızılbükü and Hayitbükü are among the best known deep blue bays with crystal clear waters. In addition, Datça has many blue flag beaches where you can relax and just enjoy the sun and the sea.
Sample Itinerary:
Datça - Gulf of Hisarönü – Datça is ideal itinerary for one week charter. See other alternatives on
Itineraries
page.
Nearest Airport:
Dalaman Airport (DLM). It is 162 km to center of Datça district.