One of the most famous and internationally recognized destination for blue voyage with gulet / yachts to explore the region bays and beaches which provides all kind of blues that meets with deep green.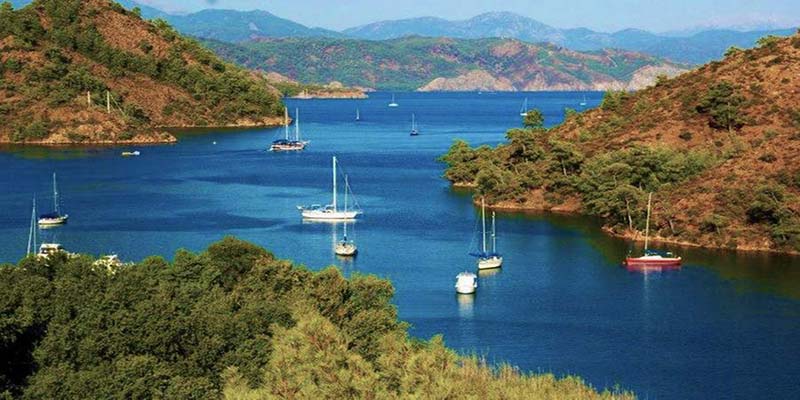 Fethiye with its cultural wealth, natural beauties and geography, is among the important touristic centers of Turkey. It is famous for its works of art belong to Persians, Lycians, Carians and Romans. This charming county is in a bay within Fethiye Gulf where both large and small islands are scattered. The rear of the bay is surrounded by pine forests.
The city was fortified in the 8th century, and appears as "Telmissos or Anastasioupolis" ca. 800. By the 10th century, the ancient name was forgotten and it became known as Makre or Makri ("long one"), from the name of the island at the entrance to the harbor. The area fell to the Turks in the late 12th or early 13th century. It became part of the Ottoman Empire in 1424, and was called Meğri until 1934. In 1934, the city was renamed Fethiye in honor of Captain Fethi Bey, one of the first pilots of the Ottoman Air Force.
The abundance of bays and islands on the rugged coast line creates an excellent basis for the development of yacht Fethiye tourism. The Fethiye old town itself has no beaches, the closest municipal beach is Çalış Beach, it is located in several kilometers from Fethiye old town. The water temperature in the sea near Fethiye Turkey throughout the year rarely falls below 19°C. Fethiye region is famous for the magnificent sea and underwater tuff caves, which are particularly interesting for divers. In 16 km from Fethiye Turkey near the town of Ölüdeniz there is a unique nature reserve Blue Lagoon, the so-called Dead Sea - the most visited and one of the most beautiful beaches in Turkey.
Sample Itinerary:
Fethiye - Göcek - Fethiye
or
Fethiye - Kekova - Fethiye
are ideal itineraries for one week charter. See other alternatives on
Itineraries
page.
Nearest Airport:
Dalaman Airport (DLM). It is 44 km to center of Fethiye district.