Göcek one of the indispensable stops of sea journey is a small heavenly bay whose fame transcends the borders of the country.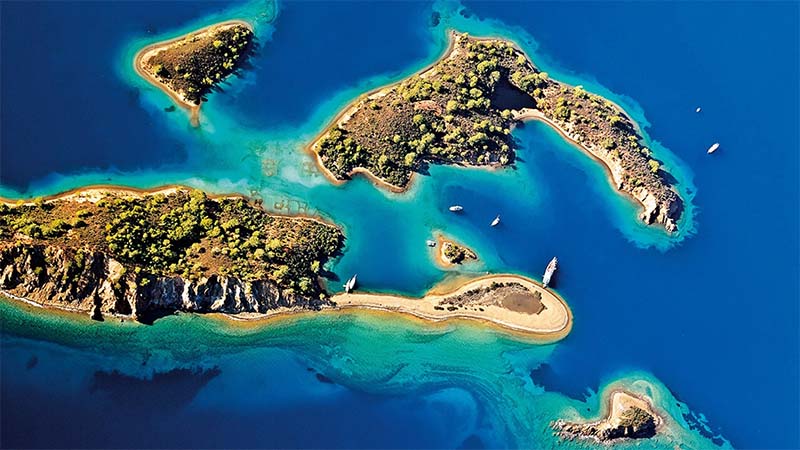 Göcek located on the west coasts of the Mediterranean, (it is established on the village Kalimche between Fethiye and Dalyan) is a cute bay and resting place hiding obscure retreat of the Kapı Mountains. It is a harbor to which people want to come by escaping from cities, speed and uproar of city.
Göcek sits in a large bay, in which islands and coves create a very beautiful environment in which to spend time, on and off the water. It was declared an area of special protection in 1988. As a result, no multi-story buildings are allowed which contributes to the upmarket feel of the resort.
You can walk around Göcek, which provides easy access. In Göcek, you will definitely not encounter any problems with city traffic. The oldest marina of the region, Gocek marina, is just a 2-minute walk from the center. Shops, restaurants and cafes are around the marina for shopping. If you want to feel more intimate with Göcek offering all the greenness and blueness of nature, you should definitely hire a gulet / yacht to visit 12 Islands.
The various coves and 12 Islands that surround Göcek provide a tantalizing look at an unspoilt Mediterranean with crystal clear water, beautiful beaches and pine forests.
The area offers opportunities to visit historical sites within 60 minutes' drive, such as the Fethiye Museum, Pınara, Tlos Letoon, Xanthos, Telmessos and Patara.
Sample Itinerary:
Göcek - Fethiye – Göcek
is ideal itinerary for one week charter as there are numerous bays, islands and beaches to visit at that short route. See other alternatives on
Itineraries
page.
Nearest Airport:
Dalaman Airport (DLM). It is 18 km to center of Göcek district.