Marmaris is a coastal town, a port city and a tourist destination on the Southwest Mediterranean coast of Turkey, in the Muğla Province.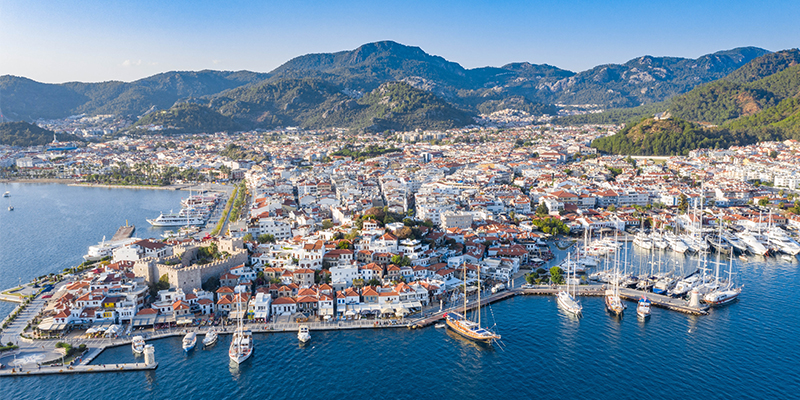 Marmaris is a town in Turkey, at the point where the Mediterranean Sea intersects with the Aegean Sea parks variety in small space. From historical monuments of the bygone eras to the shopping centers, tourist's sea activities and rich Byzantine, Persian, Roman and Ottoman architecture, these towns are worth checking out. It's also home to one of the most visited castles in Turkey, Marmaris Castle. It is the city's oldest landmarks. It's a popular stopping point for those on rural tourism around Turkey. It's among the few castles in Turkey that boast of an in-house museum.
Its surroundings, long coastline, outstanding landscape of pine-covered hills, isolated bays and inlets, wonderful beaches, ancient cities, marinas and every kind of attractions; Marmaris welcomes more than 400,000 people during the summer season.
Despite the development which reaches around 10 km along the West of the bay, Marmaris is also well-known for its expanse of green, present the whole year round thanks to the pine-covered hills which surround the town. There are many beaches around the bay, and there are ancient cities and seaside villages close by for day trips.
The yacht harbour is the biggest and newest in Turkey, and therefore the busiest charter port especially for trips along the Turquoise Coast. In addition to the climate, beaches and facilities of the town, the transportation infrastructure is a definite plus for attracting visitors. It has easy connections to the nearby airport, ferries to Rhodes, and on the road to Datca and Fethiye.
Sample Itinerary:
Marmaris - Datça – Marmaris
or
Marmaris - Fethiye – Marmaris
are ideal itineraries for one week charter. See other alternatives on
Itineraries
page.
Nearest Airport:
Dalaman Airport (DLM). It is 88 km to center of Marmaris district.